For a number of UK top authors, it's necessary their essays and articles are not merely written correctly, but that it can be utilised in the type of circumstance or competition it is intended for. Whether they decide to utilize a 1 liner or several paragraph article, they know that it needs to communicate well and should comprise strong argument and convincing pieces of information. Because of this, you can find lots of EDUVINCI talented writers in the UK that offer essay writing solutions to companies looking to seek out somebody to write a personalized article in their opinion. Because the web has become so common by shoppers, so lots of businesses are now needing custom posts in bulk, in the place of only hiring a ghostwriter to write an article or article in their own benefit. This customized made informative article may comprise any such thing from an advertisement, an event, and maybe just a personal opinion on the organization or solution being sold.
Ready to use Freelance Android App template for your own Freelancing Portal
Get this freelancer android app template to start your freelancer portal. Helping you find local freelancers and businesses.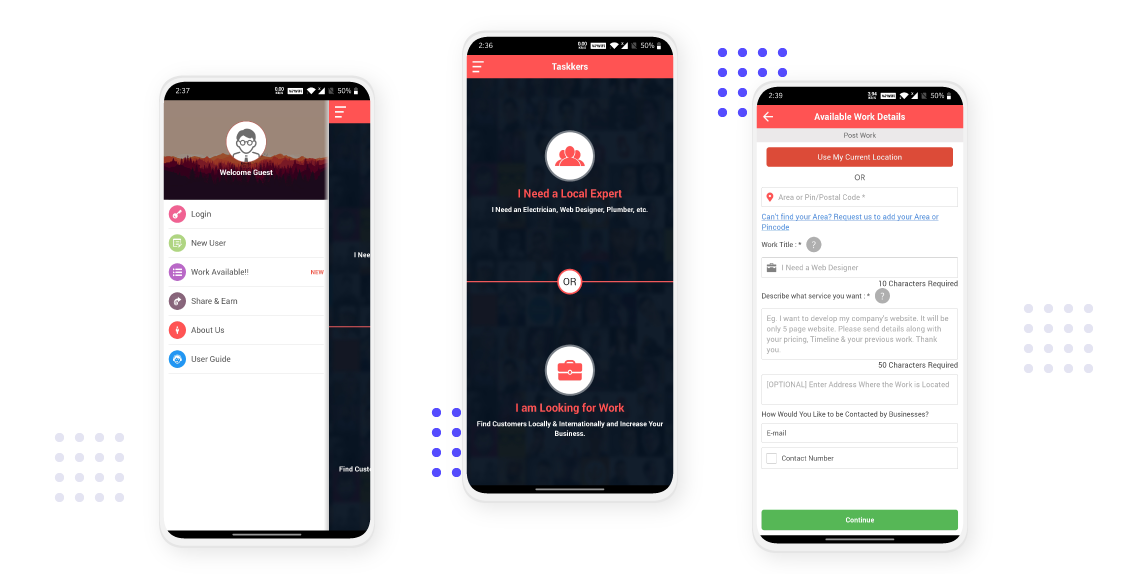 Our freelancing Portal App is suitable for freelancers across the world
Create your own freelancing portal today
The freelance Android app would help you get your freelancing portal online in no time. It will help businesses connect and get their latest project done by the best freelancers across the world.

The app would help freelancers across the world get jobs easily with the convenience of working from home. The app would have features like browse categories, browse jobs, bidding for the job, etc.
The app makes it easier for freelancers to post the services they provided so they can get appropriate jobs from businesses. You can also modify a section of the app according to your use.
How can we help you start your own Freelancing Portal App?
You will be able to earn 100% profit on our White-label product.
You can have your own startup by replicating the product which is previously successfully proven across the world.
It helps the local business by connecting them to the best freelancers across the city or state.
It gives freelancers a platform for showcasing their services to businesses worldwide.
The white label product of Taskkers allows you to run the app under your own name.
The customers can select appropriate businesses and the businesses can get their work done by the best customers. This makes it a win-win situation for both.
Why us?
100% Money-Back
Guarantee
Some of the Robust features of the Freelancer Android App
We understand your Business like no one else. We have developed the following features and tested the solution after identifying real problems that business owners face.
Done For You
We provide you with the complete design of the template, so you don't have to worry about the technical functionalities.
Custom Design
We would build the app customized according to your need. We would change the content and color theme according to your needs.
Multiple images
The app allows you to add multiple images and videos of your projects. This would help you upload quality content and thereby attracting new customers.
Technical Support
We provide you with 30 days of customer support over any issue you are facing. Customer satisfaction is our highest priority.
Easy Profile building
Freelancers can easily make a profile and smoothly proceed further for job application.
Project Listing
Businesses can post their project requirements on the app which allows the freelancer to choose according to their skill set.
Category wise listing
The jobs that are posted by the freelancers are listed in categories making it easier for the businesses to find the service that they need.
Feedback
The feedback would help the businesses choose a freelancer based on their past reviews.
A perfect website template designed for
following industries and verticials
Why go for an online App?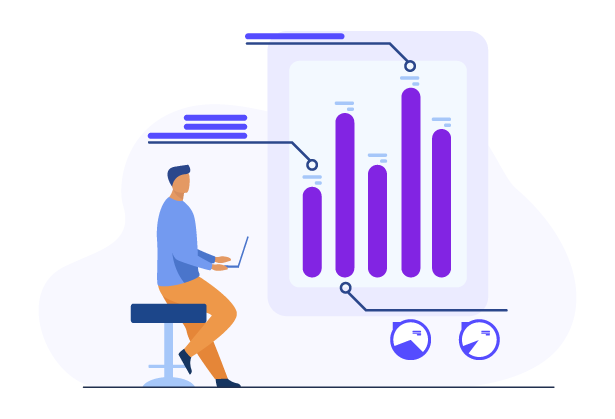 Around 1.1 billion freelancers are looking for new projects across the world.

The Freelancing Android App would help the freelancers that offer different services connected to the business that offers projects.
The freelancers can apply for jobs online and businesses can hire them through the app making it easy for both parties to get their work done.
A completed integrated solution with Website,
Android and iPhone App for Fruit and Veg,
Supermarket, E-commerce stores across the world
Fruit and Veg Website
Fruit and Veg iPhone app
Fruit and Veg Andorid App
Select the packages as per your
business requirement
Andorid App
$1950/-
User Profile
Custom Design
Send Proposals
Complete Solution
Latest Posted Jobs
Easy to integrate
Categories Listings
Complete Done For You
Payment Gateway Integrated
Robust & Secure Code Standards
iphone app
$2450/-
User Profile
Custom Design
Send Proposals
Complete Solution
Latest Posted Jobs
Easy to integrate
Categories Listings
Complete Done For You
Payment Gateway Integrated
Robust & Secure Code Standards
Why choose Tenacious Techies?
Highly Experience
With 9+ years of experience, you will receive a high quality website with optimum speed and beautiful design. We have proven track record of delivering complex projects in time and budget.
Test and Robust Solution
Our tested and ready solution for Super Markets, Fruit and Veg Stores, Cake Shops, Bakeries allows you to take your business online within no time. Check out our free demo or book a free consultancy call with us.
Complete Support from us
We will provide you complete support if anything goes wrong with your website up to 1 year if we are hosting and maintaining your website. This way you don't have any ongoing cost.
Done For You
We are a complete done for you service. You will be spending more time in buying cheap templates and spending thousands of dollars in product customization and design changes. We will look after everything from design to hosting.
Try Before You Buy
We provide 100 % Free Demo so that you know what you are paying for. We believe in your success. Try the complete product before you decide to make a purchase. We can organize a free demo at your convenience.
100 % Money Back Guarantee
If you change your mind after placing the order, we can provide you a 100 % Money Back Guarantee.  You can request your refund within 7 days from the date you make your purchase.
What do I get after buying the template?
Our Done For You Android App Template services look after everything from custom design to hosting on your server.
I have some additional requirements in the existing template. Can you do it?
Yes, we can do additional modules for a small fee, or you can also use the code to get it done yourself.
How do 7 days money-back guarantee work?
We allow you to change your mind if you don't want to proceed with your order. Once we receive your order, we start working on your project only upon your confirmation. This way you are only proceeding ahead when you know what you are getting for your investment.
I have a different business. Can I use this template for it?
Yes, you can use this template for any E-commerce business with a single category. If you have multiple categories, please feel free to send us your custom requirement.